BOOKS, 2006 - 2020

Catalogue, 2020
(Dummy Book, not published yet)
Monograph
Size: 27.5 x 37.5 cm
Pages: 17
Hardcover, Foam Block
Inspired by the booming interest of recent years in photobooks and artist's books, I felt the need to rethink the concept of the classic photography catalogue, in which the artist or photographer presents personal or commissioned images.
While researching well-known classic photobooks, one extremely large-sized book caught my eye. In 1999, Taschen published SUMO by photographer Helmut Newton in a 'limited edition' of 10,000. So far, this has been one of the largest (in size), heaviest, and most expensive book projects ever. A smaller but still oversized coffee table version was released in 2009 at the retail price of € 99.
It is not Newton's photography in particular that got me interested in thinking about this book, but rather the inherent contradiction between 'super special' and 'exclusive' on the one hand and 'mass marketing' on the other. This type of contradiction has always been an implicit theme of my photography.
Lately, I like to allude to the aesthetics of stereotypical webshops and mail-order imagery (i.e. the white backdrop). In such catalogues product photography is used to (re)present products and artworks, images that are presented mainly online and usually go extinct after one (fashion) season.
Instead of working swiftly by shooting digital I employ the large format camera, shooting my images on 4 x 5 inch negative film stock. This means a more time-consuming workflow with quite some handiwork involved. 
For my Catalogue book project, I decided to start the book making process from the other end. This basically means that I began literally from the outside and created the interior afterwards. For this book-object I copied the measurements of Newton's 2009 Taschen edition, which means that size-wise Catalogue is a replica of SUMO.
After having experimented with various dust jackets, it seemed to me that they all had too much presence visually. So I went looking for a certain color, print or image that would persuade the viewer to also focus on the book-as-object. I wanted the final dust jacket to work as some sort of placeholder and function as a substitute for any possible cover. 
In the end I chose chroma key green for the dust jacket. This green color shade is also used in film and photography, because image software has been programmed to depict this color easily. In post-production, the green parts can be replaced with other images, colors or patterns, which I found a fitting 'open' idea. 
After I had decided on the dust jacket and the cover color, I proceeded with the images for the book's pages (for its interior). Because I was not planning Catalogue to carry as many pages as SUMO, I filled most of the book with foam as quasi-pages, suggesting a fakeness supporting the idea of the book-as-object to become like a theater, film or advertisement prop. I then shot this 'prop' together with a model in the studio. The girl, who is smiling on every image, presents and 'advertises' the object in front of the camera. I printed 13 of these images full-page and added an index listing these 'works'.
The final 'book product' entitled Catalogue also functions as some sort of catalogue for my own photographic works, while at the same time it functions as product catalogue for the final object that the 'consumer' is holding in her hands.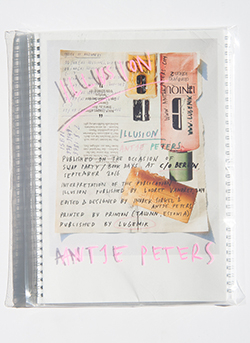 Illusion (second edition, re-edited), 2016
Monograph
Image book: Colour offset printing
Text book: Risograph RZ970E
Edition of 300, 40 different covers, all in plastic envelop with title
(handwritten by the artist)
21,5 x 30 cm
Design by Antje Peters, Indrek Sirkel, Anu Vahtra
Text by Knock! Knock! Books
ISBN 978-9949-9781-8-2
Published by Lugemik, Estonia
Published on the occasion of Swap Party / Book Days at C/O Berlin, September 2016
Interpretation of the publication Illusion published by Lodret Vandret, 2014
Text Book printed at Helmut Newton Foundation, 30 Sept - 2 Oct 2016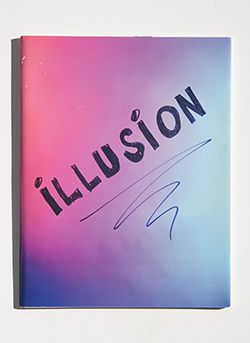 Illusion, 2014
Monograph
Colour offset printing
Edition of 150
23,5 x 30 cm, 48 pages, 48 plates
Design by Lodret Vandret
Text by Lorelinde Verhees
ISBN 978-87-92988-11-9
Published by Vandret Publications, DK
*SOLD OUT*
Illusion is a book by artist Antje Peters, in which she works with the themes of illusion and error of perception. It is set in a studio situation. The studio itself is supposed to be the place where 'the magic happens' and where illusions are created, in terms of product and advertisement photography.
Through the interplay of the photographic studio and its props, including the photographic equipment itself, and advertisable 'products', Peters' creates some kind of present-day Surrealism. Like good old Surrealism, it is at once seductive and a visual pun on the issue of (photographic) representation.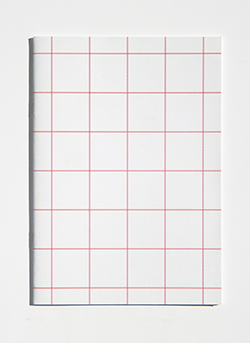 Desserts, 2013
Monograph
Size: 21x30cm
Pages: 36
4 colors offset print
Softcover/paperback
Edition: 200
Publisher: Automatic Books, IT
Desserts straightforwardly presents 15 photographs of pre-manufactured desserts to be found in supermarkets plus an image of an apple (an allusion to one of the symbols for consumer culture). Imagery from 1970s-90s cookbooks inspired Antje Peters' post-cookbook approach, with a sharp eye for detail and composition. The usually functional and illustrative features of photographs in cookbooks give way to a detached product photography style, with a particular focus on shiny surfaces and vivid colors – like advertisement photography but devoid of slogans and logos. Don't expect recipes here nor any kind of instruction on how to prepare or devour the delicacies. Desserts or elements thereof are shown as 'objects' to be admired, like this book itself, which is anything but a cookbook.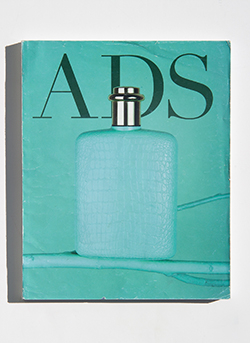 Ads, 2010
Monograph
Size: 23x28.5cm
Pages: 215
Full color
Softcover/paperback
Edition: 5
Ads was published on the occasion of the exhibition Behind the Billboard at MK Gallery, Berlin, nov. 2010.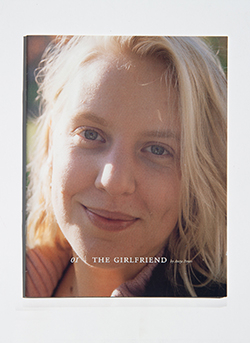 01. The Girlfriend / 02. The Popstar, 2006
Monograph
Size: 22x29cm
Pages: 26
Full color
Softcover/paperback
Edition: 500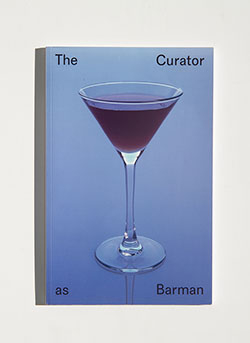 The Curator As Barman, 2015
Commsiioned
Pages: 82
Softcover/paperback
Publisher: Automatic Books, IT
A project curated by: School for Curatorial Studies Venice
Photographs: Antje Peters
Artists:
Anthony Antonellis, Elvire Bonduelle, Keren Cytter, Renee Cox, Luca De Leva, Anne de Vries, Thomas Dozol, Roberto Fassone, Jesse Greenberg, Joel Holmberg, David Horvitz, Ilja Karilampi, Daniel Keller, Martin Kohout, Jonas Lund, Mark Mulroney, Jaakko Pallasvuo, Yuri Pattison, Nicolas Pelzer, Brad Philips, Michael Pybus, Adriana Ramić, Antoine Renard, Rafael Rozendaal, Paul Sepuya, Matthew Speedy, Amalia Ulman, Ignacio Uriarte